If you have the chance to visit Chicago, you should definitely take it. But please, go when it's warm (like June or later) and allow more than one day to see all the fabulous art and culture Chicago offers.
Our tiny high school Scholastic Bowl team qualified to take part in the NAQT National Tournament in Chicago last week. This was a fabulous opportunity for kids from our little corner of southwest Virginia to experience the culture of a big city and compete against students from multiple states. We had a blast, and the 12 hour drive (one way) was definitely worth it.  We hit the ground running when we got back, and I'm still exhausted, but here are a few tips I picked up about visiting Chicago.
One day isn't enough
Because the school was paying, and we had to dedicate a day to competition, we only had one day to play in Chicago. 🙁 Definitely not enough. When I go back, (which I must), I want at least four days, or ideally, a week-long stay in a VRBO. We used public transportation, another way for kids to experience city life, but that came with unexpected delays. (Like an intoxicated, unresponsive passenger that had to be removed from our L train by a rescue squad. Don't drink, kids, it only causes trouble.)
Find discounts for attractions
My family used City Passes in San Francisco, a huge help with expenses. You can get those in Chicago as well. Since we only had one day to sight see, I opted for the Go Chicago Card, which allowed us to choose two attractions and get a 20% discount. These passes usually help you bypass long ticket lines as well.
Transportation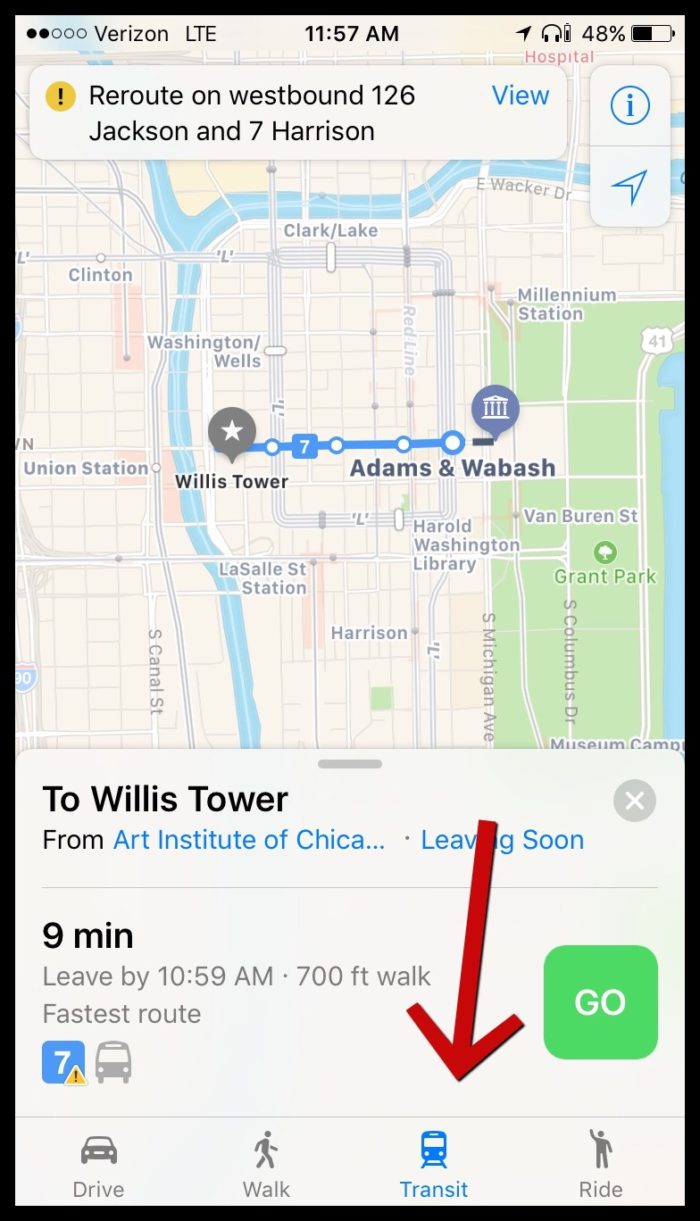 We used the L ("elevated train"), not the bus lines (only because I didn't have time to figure them out). The L was clean and safe, although we only rode during daylight. Our hotel was out by O'Hare Airport, and it took nearly an hour to get to downtown from there.
I highly recommend the one day CTA (Chicago Transit Authority) pass. For $10, we got unlimited rides on the L (and on buses if we had needed them). There's also a three-day pass for $20. Overall, the system was pretty easy to figure out, although several train lines run through "The Loop" in the middle of downtown, and not all lines travel to all stations, which could be confusing. I like using the "transit" option on iPhone Maps" to give me a travel plan that includes public transportation options.
Go when it's warm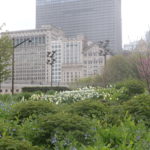 Chicago has so many beautiful outdoor spaces- the River Walk, Millennium Park, Grant Park, the Navy Pier, and the lake front beaches – that it would be great to visit when the weather is warm. During our visit in late April, it was overcast with highs in the 50s (fairly typical for April). Closer to the lake felt even chillier. Good friends of mine who visited in the summer enjoyed warm weather activities like bike and kayak tours. When we go back, I'd definitely like to do that.
Art lovers take note!
There is much to please the art enthusiast's eye in The Windy City. In fact, 2017 is the Year of Public Art in Chicago.  Fascinating architecture and sculpture fill the city spaces. We visited The Art Institute of Chicago, which has the largest collection of Impressionist paintings outside of France and many other famous pieces (American Gothic, Whistler's Mother). As a girl who grew up outside of DC and its free Smithsonian museums, I was shocked at the ticket price for The Art Institute – $40 for adults! I highly advise using a City Pass or a Go Chicago card to help with expenses. The museum also has free days [look up and link]. We only spent an hour and a half at the Art Institute; I could have easily been there all day.
See the city from UP HIGH
There are two skyscrapers where you can go for a fabulous view of Chicago and beyond:  The Hancock Building and The Willis (formerly the Sears) Tower. Both cost about $20 and feature a high-speed elevator ride to the top. We went to the Willis Tower as it was closer to the other downtown attractions we visited.
When we stepped out of the elevator onto floor 103, we could feel the building shifting in the sky.  There are views from all four sides of the building, as well as a few glass "Ledge" boxes where you can step out onto a clear surface and look down to the street below. I hate heights, but my daughter (also a bit height squeamish) did it, so I had to. I was fine until hubby said to my son, "Look down at the cars." When I glanced past my feet to the tiny vehicles below, my vestibular system screamed anarchy, and I cleared out of that box. It's worth a visit, although it's a tad "touristy".
Away from downtown
Chicago has multiple neighborhoods worth visiting outside of the downtown tourist destinations. You can hire a free Chicago guide for groups of six or less to take you on a tour of the neighborhood of your choice. We opted to visit Pilsen, a Hispanic neighborhood west of downtown that features many colorful murals on businesses and homes.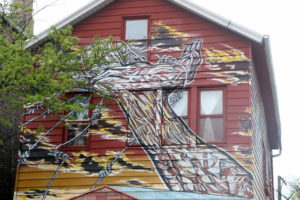 To the great delight of our Scholastic Bowl team coach, who doubles as a Spanish teacher, we visited the home and studio of artist Hector Duarte. His enormous mural Gulliver in Wonderland depicts the plight of immigrants in America. Lucky for us, he was home when we visited, and he graciously spent almost an hour with us, sharing his art and explaining the challenges and emotions immigrants experience.  With everything going on in the news right now, this was a fabulous opportunity for all of us to hear the perspective of a Mexican immigrant. This was one of my favorite parts of the trip, and even hubby, a non-artsy guy, enjoyed it.
Have you ever visited Chicago?  What tips can you add to my list?
Thanks for stopping by!