It will only take you ten minutes to do what I ask.
Ten minutes to indulge language and rhythm and creativity, and if you come to this blog, surely you treasure these things.
April is National Poetry Month and today, April 27, 2017, is Poem in Your Pocket Day. Poets.org encourages all lovers of words and poetry to take one of the poems they suggest in their Poem in Your Pocket Day PDF and share it, via printed copies at schools, libraries or transportation centers, or via digital images on Facebook, Twitter, and other social media.
If you've pulled up this post on your phone, you've already got the poem in your pocket, right?  Now you just have to read it, enjoy it, and share it.  To find other poems to share, visit poets.org for more Poem In Your Pocket ideas.
I liked the theme of this one, given the current climate of conflict in our country and around the world.
When Giving Is All We Have
 by Alberto Ríos
One river gives
Its journey to the next.
We give because someone gave to us.
We give because nobody gave to us.
We give because giving has changed us.
We give because giving could have changed us.
We have been better for it,
We have been wounded by it—
Giving has many faces: It is loud and quiet,
Big, though small, diamond in wood-nails.
Its story is old, the plot worn and the pages too,
But we read this book, anyway, over and again:
Giving is, first and every time, hand to hand,
Mine to yours, yours to mine.
You gave me blue and I gave you yellow.
Together we are simple green. You gave me
What you did not have, and I gave you
What I had to give—together, we made
Something greater from the difference.
Copyright © 2014 by Alberto Ríos
Isn't it a beauty?  Now, please share it!  I've created a "poem graphic" to make it easy for you. 😉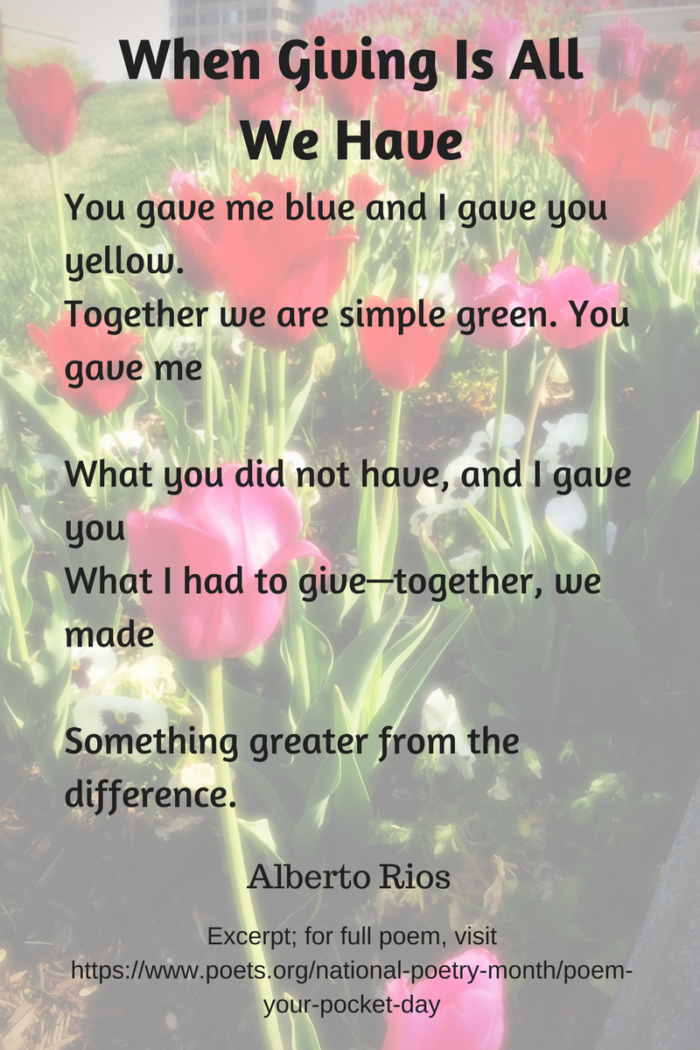 Thanks for stopping by!