Today is my 46th birthday. I won't lie, the occasion strikes a bit of concern, especially as my vision has grown noticeably worse just in the past two weeks. Even with multi-focal contact lenses, I must squint and strain to read labels in the grocery store, and yesterday I finally caved and set the text on my iPhone to a larger size. And then there's the fact that it has taken me over a year to recover from a hamstring strain. 🙁
Conversations with my friends these days often revolve around health issues, like how I can expect my metabolism to slow to a near halt as I approach 50 and how arthritis might pop up in my hand joints.  However, as I discuss knee replacements and shoulder surgery with my contemporaries, I realize I have quite a bit to be thankful for.
We had a very serious scare last fall: a close family member near my age suffered a ruptured brain aneurysm and spent two frightening weeks in the ICU.  She has had a truly miraculous recovery, but it's caused big changes in her life and a sobering realization for me: there are no guarantees.  Every day, including every birthday, should be spent not mourning what I've lost but celebrating what I still have.
In the powerful novel Code Name Verity, by Elizabeth Wein, one of the main characters is a spy who is captured and tortured by Germans during WWII. As she approaches her eminent execution, she says something I think all people who traditionally mourn birthdays after 30 should hear.
I am no longer afraid of getting old. Indeed I can't believe I ever said anything so stupid. So childish. So offensive and arrogant.
But mainly, so very, very stupid. I desperately want to grow old.
Growing old, my friends, beats the alternative.
I love working with teens, and in the past I've had a habit of saying to them, "Don't get old, it stinks." But the right advice, the thing I will say from now on, is, "Love yourself and take care of your body, because hopefully you will need it for a long time."
I'm 46, firmly planted in middle age, with wrinkles spreading around my eyes and hands that look more like my mom's than my own. But that's okay. Because I'm here, with good health, a wonderful family, and dear friends.  With the right habits and God's blessing, I will be for many more years.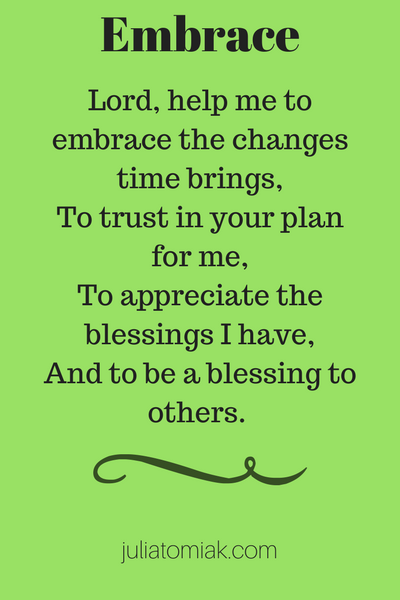 If you're one who usually sees birthdays as a cause for dismay, will you please join me in celebrating the gift that each day, and each year, brings, even if wrinkles come along for the ride?
Thanks for stopping by!