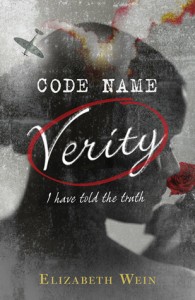 Have you ever read the final lines of a book and had the uncomfortable feeling that you missed something?  Big?
That's how I felt when I finished Code Name Verity, by Elizabeth Wein.  Agents and other writers have recommended it, and it receives fabulous reviews on Goodreads, but I almost gave up on it.
The Premise
Code Name Verity tells the story of two young women, who would never have been friends under "normal" circumstances," brought together by the horrific events of World War II.  They both contribute to the war effort for Great Britain, one as a pilot and the other as a spy.  Unfortunately, both end up stranded in occupied France while carrying out a secret mission.
The book opens from the point of view of one of the girls; she uses many different names in the book, but let's just call her "Verity."  She's in a Nazi prison, writing her confession.  But her rambling narration often left me frustrated and confused.  I told the book club girls I was giving up.
"No," they all said.  "It gets better by page 200."
Two hundred?  That's pretty far in.  But I plugged on.
At page 200, the point of view shifts to Maddie, and she's much easier to relate to.  As she tells her side of the story, Verity's confession makes more sense.  Plot twists and surprises come to light.
Recommendations
Code Name Verity is definitely worth reading.  Most of the reviewers on Goodreads are fearful to say too much about the book, worrying about spoilers, but I think these tips are helpful and not too revealing.
It's great for anyone who enjoys historical fiction, strong female leads, or airplanes and flying  (I don't really care about airplanes or flying, which was another reason why the first half dragged for me.)

Despite Verity's wandering narrative, remember that she's a very bright, strong-willed character.  And that she specializes in CODE.  She has important things to share, even when it doesn't seem like she is.
The book is set during WWII, and involves Nazi interrogation, so expect to be repulsed and sad at times.
You can find great study guides / discussion questions on-line, especially if you're a teacher working on a WWII unit, or someone with great interest in WWII.
It's a powerful story of the sacrifices made by many people during WWII, sacrifices that many of us today have never had to consider.
As I mentioned earlier, I feel like I missed some important pieces to Code Name Verity; in particular, I had a hard time relating to Verity.  I plan on rereading the first part, just to get everything I can out of the book.
Have you read Code Name Verity?  Did you enjoy it?  How did having two narrators hurt or help the story?  
Thanks for your input, and happy reading!
Julia