Preparing six people for an eight-day vacation is no small task.  There is laundry to wash, sunscreen to gather, and pet care to arrange.  But in the pre-departure hustle, I cannot forget to pack the most important items: books!
My book club will meet in July to discuss the highly recommended The Wright Brothers by David McCullough, so I'll be taking that with me to the lake. Unfortunately, I haven't even cracked open the cover yet; non-fiction does not excite me.  I'm the only person I know who did not like Unbroken and who, *gasp*, did not finish it.  This is why my book club helps me- if it weren't for those ladies, I'd never break outside of my reading comfort zone.
So, the "magical account of the Wright brothers' early adventures" will go in my suitcase, but I'm arming myself with back-ups, just in case. The Wright Brothers cover copy promises that it's "concise, exciting, and fact-packed", but I'm doubtful.
My "fun" vacation titles include: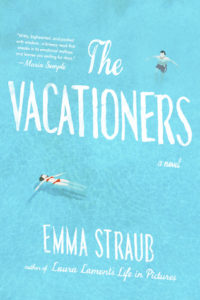 The Vacationers by Emma Straub.  I saw this at Target and picked it up because it is the same color as Where'd You Go Bernadette (one of my all-time favorites) and has people swimming on the cover.  The blurb on the back says it offers all the delight of a "read it with sunglasses on the beach read, made substantial by the exceptional wit, insight, and intelligence of the author."
The Husband's Secret by Liane Moriarty.   Ms. Moriarty's books usually offer an appealing blend of humor, mystery, and insight, so I figure I can't go wrong here.  I usually listen to her novels on Audible; I will miss the Australian accent of the reader.
Mosquitoland by David Arnold.  A blogging buddy recommended this YA novel a long time ago for its voice.  I've just finished two YA novels, Ultimatum and Trampoline, so I feel a bit guilty indulging in another, but hey, this is the genre I write, so I should "study up", correct?
When I finally finish these books (that will surely not happen in a week; please be patient), I will of course share reviews of them with you.
Have you read any of these books, and if so, what did you think?  Can you suggest any other books good for beach reading?
Thanks for getting nerdy with me!