You know what I'd like for Mother's Day? A week-long vacation to a secluded beach house. There, someone would prepare healthy meals and leave me alone to write, read, and exercise. I'm thinking yoga, hiking, and paddle boarding. After three days of solitude and relaxation, I might let my hubby join me.
Unfortunately, I won't get that this year. Nor do I expect many of you can give it. But I do have some practical ideas for Mother's Day gifts with a Word Nerd bent.
Glitter and Glue, a memoir by Kelly Corrigan
In 1992, Kelly Corrigan set off to see the world. A new college grad, she believed that "things happen when you leave the house." After a few months, Kelly landed in Australia, broke and a little disheartened better "things" hadn't happened.  She took a job as a nanny for two young children who had lost their mother to cancer.  The experience changed her dramatically.
For many years, Corrigan's relationship with her mother was "adversarial but functional." She says,
"When I was growing up, my mom was guided by the strong belief that to befriend me was to deny me the one thing a kid really needed to survive childhood: a mother… She looked at motherhood less as a joy to be relished than as a job to be done, serious work with serious repercussions."
Corrigan's experiences as a psuedo-mom caused her to rethink her attitude about her own mother.  Her memoir uses crisp writing and fresh descriptions to share profound insights on the complicated job of motherhood.
I loved Glitter and Glue.  It got me thinking about family relationships from multiple perspectives.
as a mother- am I too hard on my kids?  Too practical, too distant, too blunt (like Corrigan's mom)
as a daughter – My mom and I had plenty of arguments and miscommunications.  Just when I was old enough to appreciate her (age 25), she died from a neurological disease.  I  wish I had as much time as Corrigan to learn to love and accept her mom while she was still living.
as a mother – will my daughter (age 13) ever appreciate me?  Will she call me as an adult when she has questions?  She currently shares a fair amount with me – thank God- but sometimes, our conversations sound like this:
Her: Nevermind
Me: How will I ever understand if you don't explain?
Her: You just don't get it
Me:  (smiling ruefully, because I was 13 once, and I do get it) Hopefully someday you will get it.
Her: looks at me like I have three noses
When my daughter is old enough, I will give her this book. 🙂
I highly recommend Glitter and Glue for all mothers and for adult children.
Spiral Sudoku
My mother in law loves working Sudoku puzzles to keep her brain sharp. She recently pointed out that spiral bound puzzles are easier for her to handle. It made perfect sense- spiral books are easier to keep open to a page and to write on. A great suggestion from a smart lady. Here's a spiral Sudoku at Amazon.
Don't Sweat the Small Stuff for Moms, by Kristine Carlson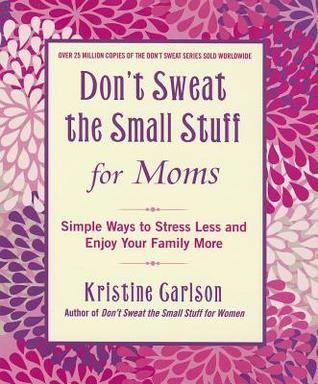 Years ago, in the child-bearing haze of my 30s, someone gave me Don't Sweat the Small Stuff for Moms by Christine Karlson. It has short, inspiring chapters for moms with children of any age. Sadly, Don't Sweat got buried in the "diaper days", and I only recently rediscovered its treasures.  I read a great piece the other night in which Karlson insisted that parents need to keep expectations and boundaries firm and clear for toddlers as well as teens. Talk about validation! The snippets offer the perfect soul food for the exhausted mother.
Can you suggest any other Word Nerdy gifts for moms this year?
Please add to the list! And for all you moms, Happy Mother's Day. And for all of you who have lost their moms, you will have a special place in my thoughts May 10.
Julia