A few weeks ago when I posted my Word Nerd's Guide to Goodreads, I got a great response.  Some word nerds offered more helpful tips, and a few voiced concerns about the time necessary to set up a Goodreads account.
I've done some more field work, and I have good news.  With the clever applications available through Goodreads, setting up your bookshelves will take little time.
Thank you so much to Brandy Heineman of Bookishness and Other Beauties for sharing great tips.
Amazon Bookmarklet
While shopping in Amazon, you can easily add books to your Goodreads profile.  You must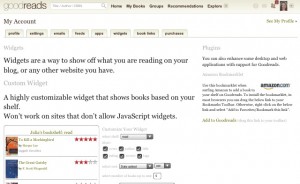 simply get the Amazon Bookmarklet for the bookmarks bar of your browser.
Log in to Goodreads and go to "edit profile".  On your profile page, click on the tab called "widgets".  On the right hand side you should see a blurb about plug ins and the amazon.com logo.  Drag the "Add to Goodreads" link up into your bookmarks bar and presto!  You've got a new bookmarklet.
Once you're in Amazon, when you are on the page of a book you'd like to read or buy, just click on the "Add to Goodreads" bookmarklet, and that book will be added to your Goodreads account.  You can click "Want to read" or sort it to another shelf.  Super easy!
Scanning ISBN Codes
Do you want to feel like a real librarian?  Or maybe a book store owner?  Well, you've got to try the scanning feature on your Android or iPhone Goodreads app.
From the home screen of the app,  choose "scan", and a small window will appear on your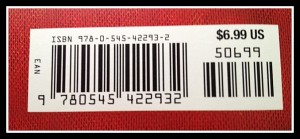 phone screen.  Line up the ISBN code from the back of any book within the window.  The phone will focus and an official sounding BEEP will tell you that the code has been successfully scanned.  The title, author, and average rating for the book will appear on your phone.
You can scan a batch and add it to either the "read" or "to read" shelves of your Goodreads profile.  So much faster than searching and clicking on the site.
Warning: older books may not scan.  My phone said it required an "ISBN 13" to work, so my slightly antiquated copy of The Catcher in the Rye wouldn't scan.  (Don't ask me when I went to high school- although I have read it since then and still didn't like it.  I guess you have to be a guy.)
The scanning feature makes it easy to add books to the "to read" pile even while you browse in a real brick and mortar store as well.  How convenient!
Now, if we could find a way to link Amazon, Goodreads, and Pinterest, we'd really rock!
How else do you use Goodreads?  Feel free to share any other helpful hints!
Thanks for stopping by!
Julia