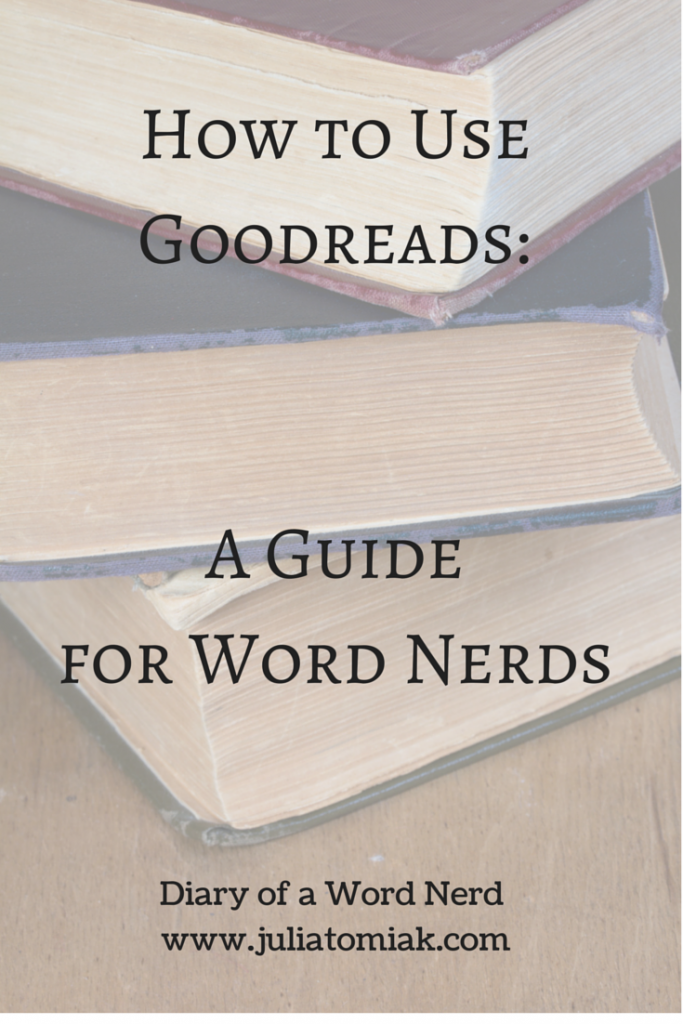 I know: you have enough trouble limiting the minutes you spend on Pinterest.  You don't need another social media site to suck away your precious time.
But trust me, Goodreads is a must for anyone who loves books.  Don't believe me?  I've got seven great reasons why you should start up a Goodreads account.
Keep track of your books
Most readers I know like to keep a record of all the books they've read.  Kinda like a word nerd trophy case.  It also helps us remember what titles we've read and whether or not we liked them.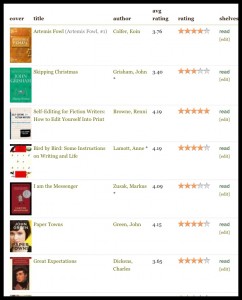 On Goodreads, you can enter the books you've read, rate them, and post reviews.  This will initially consume some time, but after you have your library in, occasionally adding new book will only take seconds.  You can sort the books onto different shelves such as "read," "to read," and "favorites."
You can quickly add books by scanning them in with your smart phone.  I explain the Goodreads app scanning process here.
Admittedly, this feature appeals most to word nerds of the "type A persuasion" who like to keep everything organized.  Like me. 😉
Find books to read
For any book out there, Goodreads provides a synopsis, reader reviews, and an average rating.  Goodreads also makes recommendations for you, based on the books on your shelves as well as what's popular on the site.
When you see a title that looks interesting, simply click the "want to read" button, and Goodreads will add it to your "to read" shelf.  Never again will you scratch your scalp and say, "Now, what was the name of that book…?"
Every year, Goodreads hosts a massive poll for favorite books of the year.  Over one million readers voted in 2012.  For great reading ideas, see the winners of the 2012 Goodreads Choice Awards.  Winning titles from twenty categories include The Fault in Our Stars, Gone Girl, and Insurgent.
Discuss Books
What's better than reading a book?  Talking about it!  Hundreds of book clubs have organized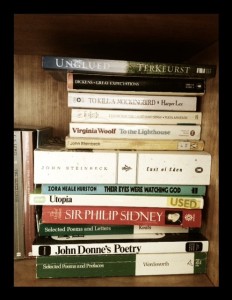 themselves on Goodreads.  Do you like young adult?  There are over 750 groups you could join.  How about historical fiction?  Plenty of that too.  Join an existing group, help choose books, and participate in a discussion about what you've read.
Better yet, start your own club and invite friends to join.  Last year some of my writing buddies started a group, and we used it to discuss books on the writing craft.  We live scattered around the world- in Pennsylvania, England, even Hawaii, but we could "meet" and learn from each other via Goodreads.
Learn about the book world
With author Q & A meetings, interviews, and up to date information on new releases, Goodreads gives you insight into the book world.  You can get email notifications of upcoming events based on the books you've added to your on-line library.
A few months ago, I got to submit a question for an interview with John Green!  I can't wait until Goodreads publishes the conversation.
Help authors
For better or worse, the publishing world is changing, and authors now bear more burden for promoting books.  By taking the time to rate a book a write a quick (we're talking three sentence) review, you can help bring attention to a title.  And therefore help a writer.  Trust me, they will appreciate it!
Friends
I don't pay much attention to this feature of Goodreads.  It's fun to connect with people you know or who are in your "book clubs."  But you'll also get friend requests from random people on Goodreads.  Your friends' activity shows up on your home page, so this can sometimes help you find books to read.
Quotes
A fun bonus- you can save your favorite quotes from literature and sign up to receive quotes via email each day.  One of my favorites:
It is our choices, Harry, that show what we truly are, far more than our abilities.  J.K. Rowling
How do you use Goodreads?  Are there any features I skipped?
Thanks for stopping by!