I live in Virginia and have suffered the blows of the "bomb cyclone".  As my daughter says, "15 degrees isn't a high, it's a low!" Surprisingly, and sadly, for my youngest child, we haven't gotten much snow, just frigid temps and relentless wind, but in a weird twist of normal winter weather, my in-laws got six inches at the beach!
What to do when the entire east coast, including Florida, is submerged in ridiculously cold temperatures? Embrace the Danish phenomenon of hygge (HOO-gah).
Hygge means "cozy", and it describes the Danish obsession with homey pleasures like candlelight, fire, fuzzy socks, knit sweaters, porridge, coffee, and the company of good friends. For something to be hyggelig (HOO-gah-lee), it must be calm, comforting, and warm, and it must convey a feeling of belonging.  If we are going to survive the polar freeze via hygge, we need to stay home in a "hygge krog" (cozy nook), wrap up in blankets, drink something hot, (the Danes like glogg, or spiced wine), eat something yummy, and watch a good movie with our favorite people.  Sounds good, right?
Some people think hygge came about as a reaction to the expensive and somewhat elitist "well being movement" that perpetuated the idea that happiness could be found in overpriced leggings and bottled juice. It could also be a coping mechanism in a country with long dark winters and 179 days of rain each year. Danes must be on to something, though, because Denmark is often listed as the happiest country in the world, even surpassing its Scandinavian neighbors Sweden and Norway, which also have small populations and abundant social programs (like subsidized child care).  But they don't have what the Danes have: hygge.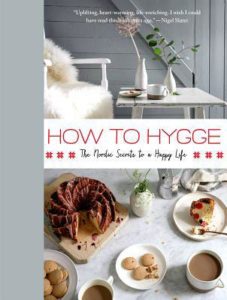 The hygge trend is spreading to other countries, including Britain and the United States. If you're interested in learning more about hygge, check out these resources:
I could definitely get into hygge, especially when it's dark by 5:30 and the temperature is described by one digit.  I love candles (except the Danes use unscented, and I prefer a good Bath and Body Works three wick), and we've got plenty of blankets.  My only concern is all that sitting and eating of comfort food could add some permanent padding to my five foot frame.  I'm going to have to balance hygge time with dreadmill time.
Have you heard of hygge?  How are you surviving the "bomb cyclone"? 
Stay warm!