I struggle with reading non-fiction. When I fall into bed at night and grab a book, I want entertainment. A compelling story. Some fascinating characters. Often when a non-fiction piece waits for me on the night stand, I just turn out the light and roll over.
To compensate, I've tried non-fiction on audio. I listen in the van or when I run. I'm convinced it slows my running pace and accentuates the fatigue in my quads, but hey, if I can get through some non-fiction that way, I'll try.
All that said, I'm proud to report that I've finished three non-fiction books in the past few months, and I think you might like them too.
Yes, Please by Amy Poehler.  Memoir;  Audio-book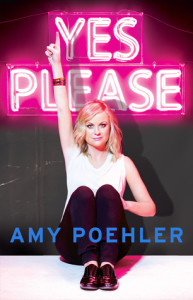 If you don't know, Ms. Poehler is a comedienne who has worked on shows like Saturday Night Live and Parks and Recreation. She's very funny, so her memoir isn't exactly non-fiction drudgery. Mixed with her humor, Poehler shares thoughtful insights on:
self-acceptance, or "finding your currency"
the tension between motherhood and career
the importance of hard work
She's brutally honest, and sometimes crass, but I respect her ideas; I even let daughter listen to a chapter (the one about the mean voice we all have in our head and how to get it to shut up.)
Poehler narrates her memoir for the audio-book and does a fantastic job. If you want funny with a little bit of thoughtful, Yes, Please is a good choice.
Favorite quotes:
~Good for her, not for me.

~The thing isn't talking about the thing. The thing is DOING the thing.

~Don't give your demon too much room in your head.
Warning: language and references to drugs and sex
On Writing: A Memoir of the Craft  by Stephen King.  Memoir/ Writing Craft.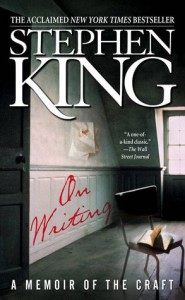 King's style and humor make On Writing an easy read. The first section covers King's development as a writer; it's a mini autobiography with a focus on writing, and it's interesting.
In the second section, King offers tips for writing well, like: omit needless words, dialog tags, and adverbs.  He shares his writing process: write the first draft fast, door closed, then use the second draft to bring out theme and symbolism.  His commentary on outlining intrigued me. I love structure, but King warns that too much plotting can stifle creative flow. I'm planning on using KM Weiland's loose "index card" outlining method for my next project.  Above all else, King upholds the importance of story:
None of the bells and whistles are about story, all right?  Only story is about story.  (Are you tired of hearing that yet?  I hope not, 'cause I'm not even close to getting tired of saying it.)
The third section describes a serious accident that nearly killed King. He says, "…it occurs to me that I have nearly been killed by a character right out of my own novels. It's almost funny."
On Writing is a must read for any writer or fan of his fiction. It won't take long, and you'll be inspired.
Favorite quotes: too many to count.  See this post and:
…perhaps the best of [On Writing] is a permission slip: you can, you should, and if you're brave enough to start, you will.
The Glass Cage: How Our Computers Are Changing Us by Nicolas Carr. Technology. Audio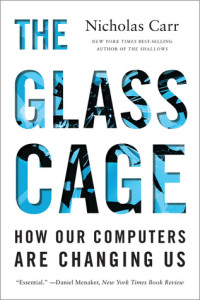 This is by far the most "non-fiction like" of all my picks. The Glass Cage explores technology and its effect on our lives. Carr raises several good points about the dangers of depending too much on tech, including:
Using our brains less, and therefore losing skills, tacit knowledge, problem solving ability, and memory
Losing sensory interaction with our environment, experiencing a narrow perception of the world
Making ourselves susceptible to the agendas of the people and/or companies designing the apps and algorithms we use
Carr cites many studies to back up his warnings, and at times, his writing is dull and repetitive. Also, The Glass Cage can be frightening and is best read in small bits so you don't get too depressed and decide to pitch your iPhone out the door. But despite these issues, I recommend The Glass Cage for the serious concerns it raises.
I enjoy technology, but want a sharp mind.  Because of The Glass Cage, I'm consciously keeping my tech where it's supposed to be: in the co-pilot seat.
I started listening to this on audiobook and had to switch to paperback. The audio brought on involuntary napping.
Favorite quote:
One of the great ironies of our time is that even as scientists discover more about the essential roles that physical action and sensory perception play in the development of our thoughts, memories, and skills, we're spending less time acting in the world and more time living and working through the abstract medium of the computer screen. We're disembodying ourselves, imposing sensory constraints on our existence.
Makes you think, doesn't it?
Can you recommend some good non fiction titles?
Thanks for stopping by!