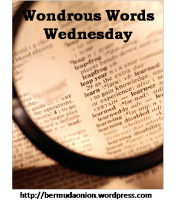 Do you like to learn about the history and meaning of words?  Then you're in the right place. Wondrous Words Wednesday is a weekly meme for people who like to dig into words.  Visit Kathy at Bermuda Onion to learn more.
My word this week won't be new to you, but I bet it's etymology will surprise you.  I recently attended a workshop given by David Benzel called "To Push or Not to Push: What Your Child Needs to Succeed."  David founded the non-profit organization Growing Champions for Life which offers education to sports parents on how to foster a healthy relationship with their children.
David offered practical advice for how to parent without pressure, including:
focus on effort and progress more than talent or results
all competitive events end with either success or a lesson (note: not failure)
motivation comes from inside, so we can't motivate our children, but we can inspire them
All this was great, and the mom in me loved what he had to say (and feared that I have some characteristics of the "Tiger Parent".  Oh dear.)
But the word nerd in me perked up when he ended his presentation talking about a word we hear so much in sports: compete.  Especially in our country, people use "battle language" when they talk about competition.
Beat, destroy, annihilate, kill.
But the word comes from a very different place.
compete: verb from Latin competere to seek together, from Latin com- + petere  to come together, agree, to go to
David suggested that we should help our children see how to use competition to strive together to improve.  This especially applies to situations that have an individual focus within a team setting, like swimming, track, or wrestling, but this approach can work anywhere, in sports, school, and among siblings.
Wow.  To strive together.  That sounds so much better than "attack", doesn't it?
Word Nerd Workout
Did you know the origin of the word "compete"?  How can its etymology change the way you think and talk about competition with your kids/self/friends?
Thanks for getting nerdy with me!
Julia