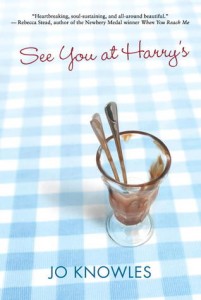 When I find a beautifully written piece of kid lit, I have to share it.  And Valentine's Day is the perfect time to tell you about the bittersweet middle grade novel, See You At Harry's, by Jo Knowles.
My daughter actually suggested See You At Harry's.  She found it at her middle school book fair and read it to me during our swim meet road trips.  That's right, she read to me.  It was a great way to enjoy a book together, except she kept rolling her eyes when I cried, because See You At Harry's has some very sad spots.
The Premise
Twelve year old Fern feels lost in her "crazy" family.  Her father spends all his energy on the family restaurant business, and her mother often disappears to meditate.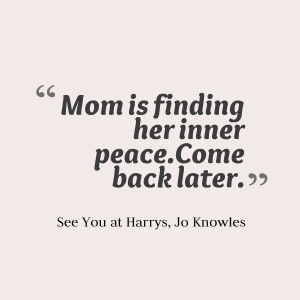 Fern's older sister, Sara, is distant, while her older brother Holden struggles with his sexual identity.  And then there's Fern's baby brother Charlie, always ready to poke her with a sticky finger.
Fern laments her status this way:
For someone who is invisible, why am I the only one in this family who can't seem to master the art of disappearing?
Doesn't every twelve-year-old feel like this sometimes?
When tragedy strikes, Fern and her family must learn how to pull together in the face of a terrible loss.
What I love about See You at Harry's
Jo Knowles skillfully and sensitively tackles lots of "coming of age" issues in her novel: grief, loss, insecurity, and love.  She shows  Fern's emotions with simple yet vivid detail, and there were several passages where I had to sigh with admiration at the beauty of her writing.  Like this one:
[Mom} holds me against her chest and rocks me back and forth.  It feels so strange at first.  She doesn't smell like I remember.  And my face doesn't reach the part of her body it used to when she would hold me like this.  I know it's because I'm bigger now, but to me it feels like she is smaller.
What a beautiful way to describe how Fern has "grown up", without using tired cliché and symbolism.  This passage made me sniffle; my children are all starting to get taller than me, and it signifies so much more than height.  My daughter heaved an exasperated sigh when she saw the tears on my cheeks.
"Really mom, this isn't even the sad part."
But she doesn't know what I know.
Another great thing about the novel are the characters. Fern has a great bond with her brother Holden, but their relationship gets tested as he explores adult issues. Fern also has a wonderful best friend, Ran, a boy who was bullied in elementary school and who calms Fern with the motto "All will be well."  Because of his experiences, Ran likes to figure out the "why" behind people's actions, even when they are mean.
More of us need to be like Ran.
A few caveats
See You at Harry's deals with some mature issues, including death and homosexuality.  These were great discussion points for my daughter and I as we covered the miles to Knoxville and D.C., but might not be suitable for younger readers.
If you liked the novel Wonder, by R.J. Palacio, I think you'll enjoy See You at Harry's.
Have you read See You at Harry's?  What did you think?  Can you recommend another middle grade novel in the spirit of Harry's or Wonder?
Thanks!
Julia