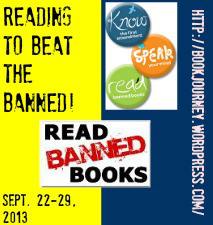 Have you ever been upset to discover that one of your favorite books has been banned?  I have. Sheila over at Book Journey wants to spread awareness about banned books, and I'm joining in!
You can find more posts about banned books at her site, as well long lists of books that have been banned or challenged at the American Library Association Website.
Note: According to the ALA:
A challenge is an attempt to remove or restrict materials, based upon the objections of a person or group.  A banning is the removal of those materials.  Challenges do not simply involve a person expressing a point of view; rather, they are an attempt to remove material from the curriculum or library, thereby restricting the access of others.
Now, I admit, I have some issues with Looking for Alaska, by John Green.  But do I think it should be banned?  No way.
Looking for Alaska has the witty voice, literary references, and BIG IDEAS that I've come to expect from Mr. Green.  It earned the Printz Award for excellence in YA literature as well as a recommendation from Common Sense Media for older teen reads.
But Looking for Alaska has a lot of content: drinking, smoking, sex.  Enough to earn it a spot on the American Library Association's list of top ten frequently challenged books of 2012.  The reasons cited on the ALA site: offensive language, sexually explicit, and unsuited for age group.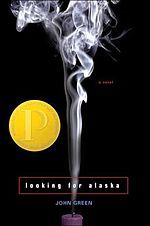 The Premise
Miles Halter has never fit in.  He decides to leave his public high school in Florida for a private boarding school in the sweltering heat of Alabama.  There, in his search for "The Great Perhaps", he meets Alaska Young.  She's curvy, talks about "boob honks," and has a suicidal smoking habit.
Immediately, Miles is smitten.
I wanted to smack him in the head.
What I didn't like
I realized quickly that the tone of this novel is much different from Paper Towns or The Fault in Our Stars.
Crudeness prevails.  But, this is a story told by a 17-year-old boy living with other teens under minimal supervision.
Miles never resists the pressure to smoke.  Day one, he lights up.
Very important:  Alaska annoys me.  She spouts off about our patriarchal society and its objectification of women while she's wearing a tight tank top and short cut-offs.  She says she's "not trying to be flirty" when she lays down and puts her head in Miles's lap.  She's moody, self-absorbed, and screwed up.  But Miles, and many of his companions, love her. (Foolish, hormonal boys!)
What I did like
Even though I didn't enjoy the characters, I persevered to the end of Looking for Alaska.  And I found some cool stuff.
Miles must write a paper that answers the question: "What is your cause for hope?"  His insights are thoughtful and authentic.  This question permeates the novel and is an excellent discussion point.
Mr. Green redeemed himself to me with his "Intentionally vague and broad discussion questions" in the reader's guide.  He pulls out the big issues of the book- forgiveness, ambiguity, grief, – and underscores the meaning behind all the adolescent shenanigans in his novel.  On the issue of teen smoking, he asks, "Why would anyone ever pay money in exchange for the opportunity to acquire lung cancer and/or emphysema?"  Oh, the symbolism!
Great lines like this:
If we could only see the endless string of consequences that result from our smallest actions.  But we can't know better until knowing better is useless.  
See?  Wow.
And so, despite the offensive content, I hope Looking for Alaska stays available to teens.  Even though some parts made me cringe, other parts made me think.  And that's what matters.
Caveat:  I don't want my children to read it until they are at least 17, but that's my decision, not the government's.
Have you read a book like Looking for Alaska that had offensive content but also important big ideas?  How do you feel about the banning of books?
Banned Books Week Giveaway!
Anyone who comments on the blog between Sept 20 and Sept 29 will be entered into a drawing to win a copy of Looking for Alaska or another book from the ALA Banned book list. Share your thoughts!
Julia