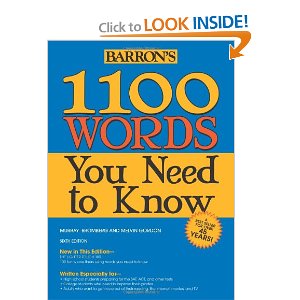 Summer's here.  More time for relaxing, reading, and learning.  Yes, even though school is out and vacation is on, you've got to keep challenging your brain.  
Of course  reading by itself will increase your vocabulary, but you can also take a more focused approach.  Let me introduce a wonderful book.
A long time ago on this blog, I mentioned my eighth grade English teacher, Mrs. Giles, the lady who instilled a profound respect for grammar in my 13 year-old-self.  She terrified me, but I learned a lot.  
One of the things I clearly remember from middle school academics, besides diagramming sentences (does anybody do that any more?) was that we didn't have spelling lists; we had vocabulary words.  We used a paperback "text" called 1100 Words You Need to Know.  Five new words each day, with a review on Friday.  
What kind of words?  Exactly the ones you come across in literature, periodicals, and, if you are of the right age, the PSATs and SATs.  For example: voluble, eschew, and repudiate.
I kept 1100 Words through college, until the edges curled and the cover ripped.  When my son entered middle school, I remembered the little gem of a resource and hoped I could find one.  My ratty copy had somehow disappeared.
Luckily, it's still in print!  I ordered four copies from Amazon, one for each child.  
I love the book because it's so easy to work with.  Each day, you read a short paragraph with five new words in it.  You glean the meaning of each word based on context clues, then complete brief matching and fill in the blank activities.  There is also an idiom introduced and explained each day, like "the writing on the wall."
On day five, you complete a review.  There are additional activities at the end of the book.  Everything is short and quick, but necessary, because if you don't use it, you'll lose it.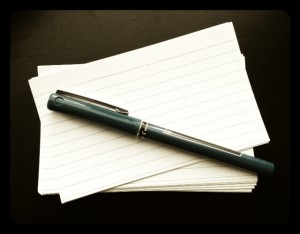 At first, my son did the matching and fill in the blank activities for each day on our way up to soccer practice.  But then I realized that he went through the exercises quickly and wasn't necessarily retaining much.  So, this summer, he will start making flash cards to use in the future.
I haven't told him that part yet.  But five flash cards a day?  How bad can that be?  Maybe I'll just have him make cards for the ones he doesn't already know.  I hate busy work as much as any kid.
And when PSAT time rolls around, he'll thank me.  In fact, after the first day of words, he said, "This is kinda fun."  You see, he looks like his father, but inside, he's a word nerd like me.
I also ask him to quiz me on the words each day, just so I can prove my word nerdy-ness to him, as well as review those tough ones I've forgotten.  🙂
How do you learn new words?  Have you ever used a book like 1100 Words?
I hope you're having a great start to your summer!
Julia