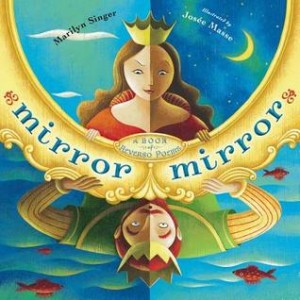 Welcome to April: Poetry Appreciation Month!
I know, I know.  You read books.  Not poems.  Believe me, I hear it from my family every year at this time, when I pull out the poetry anthologies and force them to *endure* some haiku, Silverstein, and rhyming couplets.
Reading poetry serves any word nerd well.  It gives you appreciation of word play, rhythm, figurative language, and rhyme.  Sometimes, it will make you laugh.
For kids, it's a great way to play with rhyme and practice expressive reading.  I guess that's good for us grown ups too.
Don't worry, I'm not going to subject you to Shakespeare or Wordsworth here (although a sonnet could be fun).  However, for the next few Fridays, I want to coax you into the world of verse.  Hopefully, you'll find something appealing.
Reverso
Today, I'd like to introduce you to "reverso."  Poet Marilyn Singer, in her children's book Mirror, Mirror, presents poems, based on fairy tales, that can be read two ways: up or down.   By only changing capitalization and punctuation, she gives the same poem a different meaning by flipping it, and writing it from end to beginning.  For example:
A cat

without

a chair;

Incomplete.
Reverses to:
Incomplete:

A chair

without

a cat.
Pretty cool, huh?
Singer suggests that reverso poems can be a creative way to tell two sides of one story.  Just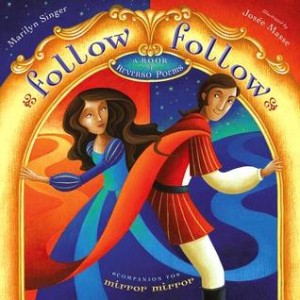 this year, she released a second book of reverso, called Follow Follow.
Now, normally, this is the spot in the post where I'd ask you to create your own reverso poem.  But I've tried.  For a long time.  This flipping thing isn't as easy as Singer makes it look.
So maybe just check out her books, enjoy the fantastic illustrations, and marvel at her Word Nerd prowess.
And pull out a book of poetry sometime.
What poems or poetic forms have you enjoyed?  Can you recommend any books of poetry for the rest of us?
Coming up next week, Bolton Carley, author of Hello Summer Vacay!, a young adult verse novel, shares some tips for encouraging a love of poetry.
Thanks for stopping by!
Julia