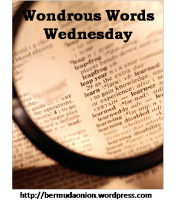 Welcome to Wondrous Words Wednesday, a meme hosted by Kathy at bermudaonion.net.  Join us each week to learn some great new words!
Today we're going to see how one word can take us from the Pope to starlings.  Don't see how?  Follow me!
In a report on the Papal Conclave, a journalist used an interesting Latin word to describe the informal, private conversations between the Cardinals as they prepare to vote for a new pope: mumuratio.
This word is the basis for the English word murmuration, which has two very different meanings.  I couldn't find the word in Webster's, so I consulted Dictionary.com:
murmuration \mur-muh-ra-shun\ noun, from Latin murmuratio; 
a low, continuous sound; an act or instance of murmuring

the movement of a flock of starlings, believed to help with self-defense
Yes, when a large flock of starlings in the sky moves in undulating formation, it's called a murmuration.  Watch this video of murmuration from YouTube.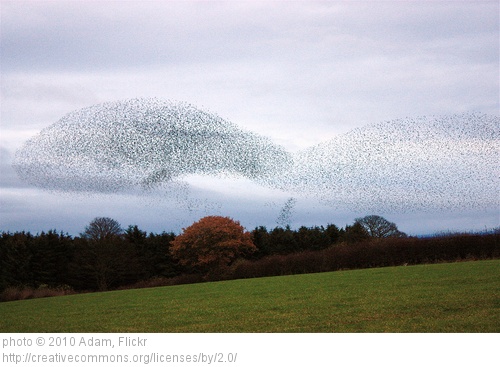 Word Nerd Workout
Try to think of a setting where you might hear murmuration- a constant, low babble of voices.  Then share a sentence about it.  For example,
The murmuration of his fellow classmates intimidated Stuart as he climbed the steps to the stage and prepared to give his speech.
Thanks for playing!
Julia
P.S.  If anyone can give me some technical assistance on how to actually embed the video into this post, I would greatly appreciate it! 🙂