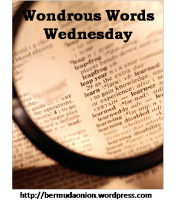 Welcome to Wondrous Words Wednesday, a great meme for learning new vocabulary.  My friend Nan, fellow English major and lover of all things literary, inspired my entry when she shared this unusual word on Facebook: growlery.
Have you ever heard of a growlery?  Read on, word nerds, because it's a  "must have."
To learn more interesting words, visit meme hostess Kathy at her Bermuda Onion blog.
Merriam-Webster couldn't help me with this one, so I searched online:
growlery \grou-'ler-ē\ noun; a place of refuge or retreat when one is out of sorts or in ill-humor.
Thank you, Collins English Dictionary, for the definition of this archaic word.
Urban Dictionary defines it: a den or lair in which to prowl with one's growler out.
Online Slang Dictionary takes a different approach: something undesirable to the point of disgust
That movie is a growlery.
Dickens often referred to a growlery in his novel Bleak House.  Here's a photo of a growlery, from Lambert's Suburban Architecture (1894):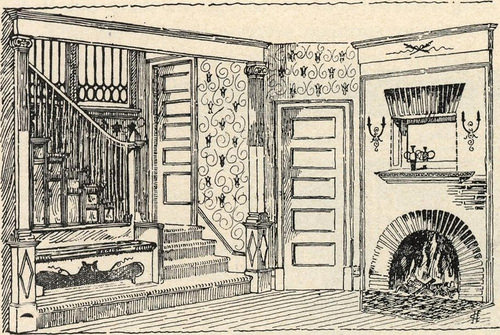 Lambert's Suburban Architecture describes this illustration:
A study or growlery is just as dear to a man's heart as a boudoir is to a woman's ; and the master of the house deserves to have some corner which shall be his very own, whither he can retire when he wishes to read or work, or simply smoke and rest, or receive business visitors, blissfully undisturbed by the rest of the household.
I'm sure I'm not the only woman who thinks that she deserves a growlery too!
Word Nerd Workout
Imagine you could have a growlery in your house.  What would it look like?  Where would it be?  What would you do there, "blissfully undisturbed by the rest of the household"?
Mine would be a small room not shared with anything else.  I would paint the walls moss-green, and it would have several windows looking out over the farm.  I would escape to that room to read, write, paint, and read.  The walls would not let sound in, and the door would have a solid lock.
Thanks for getting nerdy with me today.
Be sure to visit Kathy's blog for more word nerdy words.
And if you like old words, read this article from The Atlantic on the social networks built around archaic terms.
Julia