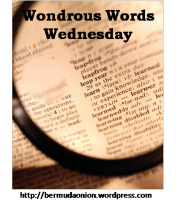 Welcome to Wondrous Words Wednesday!  Thank you for stopping by during this busy holiday week.  We can't let cleaning and turkey basting get in the way of our word nerdiness, right?
If you have time, or you want to procrastinate on the cooking, visit Kathy at Bermuda Onion for links to more cool words.
My friend Valerie recently shared a word that piqued her curiosity: idiosyncrasy.
I thought that as families and friends gather to celebrate Thanksgiving this week, there might be many idiosyncrasies being noticed out there, and that we could have fun with this word.
idiosyncrasy \i-dē-ə-sin-krə-sē\ noun from the Greek idio- + synkerannynai to blend
an unusual way in which a particular person behaves or thinks; an unusual part or feature of something
Word Nerd Workout
It's easy to find idiosyncrasies in others, especially members of our families.  For example, my grandmother kept EVERYTHING, and she always told us it was because she was "a child of the Depression."
Or, my child #3 literally can't go to sleep unless we go through a bedtime litany that includes phrases like "I love you" and "You're the best mom in the world." (Sweet, yes, but sometimes after 9pm I just want to kiss him and be done.  Then I remember my friend Amy's post on The Nine Minutes That Have the Greatest Impact, and I give him the love.)
We can all identify idiosyncrasies in others, but are you willing to share your own?  I'll go first.  When I feel stressed, I talk to myself.  Like, this week, as I prepare for 12 guests, I'm constantly chatting — with no one!  "I need to get a load of laundry in first, then I can clean the veggies for the salad."  It must have something to do with auditory processing needs.  (That sounds better than "insanity.")
What are your idiosyncrasies?  Share in the comments, and have a very Happy Thanksgiving!
Julia