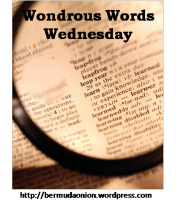 Welcome to Wondrous Words Wednesday, a great meme for learning vocabulary.  Visit Kathy at bermudaonion.net to find more interesting words.  
Today I'm guest posting at my friend Nicole's blog, Work In Sweats Mama.  Nicole is an avid runner and reader like me, but there's one big way we differ.
She's a Hokie.  I'm a 'Hoo.
For those of you outside of Virginia, let me just say that the rivalry between the Hokies of Virginia Tech and the 'Hoos of the University of Virginia is intense.  Don't believe me?  Look at this:
I'm sure there are anti-Hoo t-shirts on the Tech campus, probably pegging all UVA students as snobby and stuck up.  (Not true!)
For Wondrous Words, I did some research on Virginia mascots.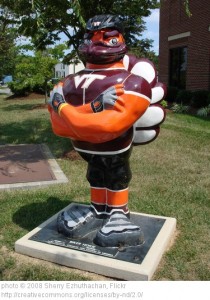 Hokie: a loyal Virginia Tech fan and the official mascot of Virginia Tech.  Although the Hokie is now embodied as a turkey, the term originally came from a cheer written by senior O.M. Stull in 1896.  The school was changing its name from Virginia Agricultural and Mechanical College to Virginia Polytechnic Institute and needed a new cheer, mascot, etc.  Mr. Stull's cheer began:
Hokie, Hokie, Hokie, Hy!

Tech, Tech, VPI
According to Tech's website, the word Hokie had no significance other than to draw attention to the cheer.
'Hoo:  Short for "Wahoo", the unofficial mascot for UVA.  (Our official mascot is the Cavalier.)  Some say that a Wahoo is a fish that can drink twice its own weight, a nod to our "party school" reputation.

  Another story says that Washington and Lee baseball fans dubbed the Virginia players "Wahoos" during the fiercely contested rivalry between the two in-state schools in the 1890s.  Like "Hokie", "Wahoo" is also part of an old school cheer:
Wahoowa Wahoowa

Uni-v Vir-gin-i-a!
I'm happy to say that I've overcome my aversion to all things Hokie.  This is a good thing, since I live in southwest Virginia, the heart of Hokie Nation.  My son plays soccer on a VT field, my daughter swims for H2okies (although she claims the claw on her suit gives her a rash

), and best of all, I've met wonderful Hokies like Kathy (our meme hostess) and Nicole.
No word nerd workout today; I'm closing comments here, but please stop by Nicole's site instead.  I'm sharing my tips on how to find great books for eager young readers.
Oh, and one last thing.  As of March 3, 2014, UVA's basketball team is #5 in the nation and #1 in the ACC.  Just had to get that in.
WAHOOWA!  :)
Julia