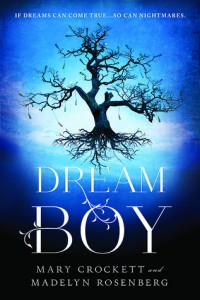 I don't do scary.  I'm 43 years old with the imagination of a kindergartener.  Clowns wig me out.  But since it's Halloween, I braved a spooky story for you.  Luckily, even though it's about nightmares, it didn't give me any.
Dream Boy, by Mary Crockett and Madelyn Rosenberg, tells the story of Annabelle, a teen who dreams of the perfect boy and then watches him walk into her chemistry class.  (Yes, as a real guy!)  He's gorgeous, athletic, and very attentive, but Annabelle quickly learns that if her dreams can enter her world, so can her nightmares.
And Annabelle's nightmare is a creepy, milky eyed little girl who wants to kill her.  (Cue the violins.)
What I Liked
I read Dream Boy in three days – that's saying something, since I have four children and am struggling to keep my head above water during the peak of soccer season.  Set in the fictional town of Chilton, Virginia, (which could be the next town over from me), Dream Boy is filled with familiar details of high school, including pom poms, Homecoming, and unrequited love.  But the paranormal twist piqued my curiosity.  Crockett and Rosenberg blur the line between the real world and the dream world, and they throw in a few surprises at the end.
The characters feel real and compelling.  Annabelle's super smart best friend Will reminds me of my own son, who likes to spout out academic trivia whenever he gets the chance. Annabelle finds herself torn between the imperfect yet comfortable Will and the dreamy Martin.  The novel subtly raises a question or two about "the perfect guy", suggesting that what we dream about isn't always best for us.
Also, Annabelle is a brave lead, and I love those, especially girls.  Here she is as she tracks down her nightmare:
And here's the thing about being scared: When it's actually happening, and you're not just thinking about how it might happen, the fear does something strange.  It's almost like it sets you free.

I don't mean it disappears.  It's still there, crushing your lungs, tangling your stomach into knots.  But you can see it for what it is.  You can see how little it matters next to what needs to be done.
Wow, a great thing to remember, even if the thing we fear isn't an eerie little girl but a hard assignment or a dreaded confrontation.
Recommendation
Dream Girl is great YA paranormal fun, even for younger teens.  The tension moves the story, but there's nothing too frightening.  (Trust me, I have a low threshold for fear.)
Learn more about Dream Boy and its authors:
What dreams would you like to become real for you?  Which ones do you hope stay in the dream world?
Thanks for stopping by!
Julia