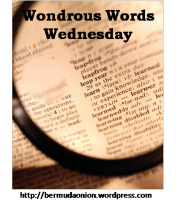 Welcome to Wondrous Words Wednesday, the weekly meme hosted by Kathy at Bermuda Onion.  Stop by Kathy's blog to join the word nerd party!
My word today comes from the fantastic (in more ways than one) world of Artemis Fowl.  I'm now listening to book number eight, the last one in the series.  Sniff. I'm sad that it's almost over.  If you have kids who like adventure stories, and you're looking for good audio books for long car rides, Artemis is the evil genius turned hero that you need!
Since I was listening to an audio book, I can't quote an exact sentence.  But here's a close approximation:
Artemis couldn't find a modicum of comfort in the cramped fairy shuttle.
modicum \'mä-di-kəm; also mō-\ noun; from Latin modicus moderate and modus measure; a small amount.
I think it implies disappointingly small amount, like My kids share only a modicum of their Easter candy stash with me.  
Word Nerd Workout
Webster's Online Dictionary lists several humorous synonyms for modicum.   Can you think of one?  My example: iota.
My son only put an iota of asparagus in his mouth and immediately started gagging.
Thanks for getting nerdy with me today!
Julia
Tweet: Word Nerd Word: modicum = disappointingly small amount; my kids shared only a modicum of candy via @juliatomiak http://ctt.ec/KmuIH+