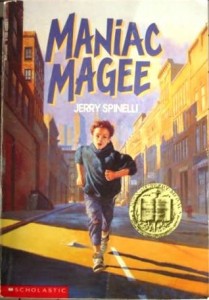 I wanted a fun book for my daughter and her friends to read this summer.  Something fun and light, yet worthwhile.  For years I've heard of the Newberry Award Winning middle grade novel Maniac Magee by Jerry Spinelli.  My son even ran in a Maniac Magee fun run years ago – we still have the shirt!  But I'd never read the novel.  Until now.
The Premise
Legends surround Maniac Magee.  He can run fast, defeat monsters, defy gravity.  The truth: eleven year old Jeffrey Lionel Magee was orphaned at three and sent to live with his feuding aunt and uncle.  When he couldn't stand the fighting anymore, he ran away.  Right to the town of Two Mills, where he stirred up trouble by challenging everybody's notions of home, family, and racial boundaries.
Spinelli narrates Maniac Magee in a humorous, kid friendly style.  The story has something for everyone: sports, (running and baseball), a bully named after a chocolate bar, a hero, and a spunky girl who loves her books so much that she carries them with her to school each day in a suitcase.  (Guess who my favorite character was?)
Great Discussion Topics
Finding things to discuss about Maniac Magee was easy – there are lots of topics relevant to the book that also have personal significance to readers.  This was great, because even a bookish twelve year old prefers to talk about herself more than a novel.  If you read this book, and I think you should, here are some questions to ponder:
Lots of characters in Maniac Magee have nicknames.  What are they?  Who calls Jeffrey "Maniac" and who doesn't?  Why?  Does "Maniac" fit Jeffrey?  What are your nicknames?  Do you like them?  What do you think of this quote:
Inside his house, a kid gets one name, but on the other side of the door, it's whatever the rest of the world wants to call him.
Maniac lives in many different places, including the zoo.  What does he think makes a home?  What do you think makes a home?  How does each home change Maniac?  How does he change each place he lives?
The prelude to the story says:
"The history of a kid is one part fact, two parts legend, and three parts snowball."
What does this mean?  What's the difference between legend and snowball?
The people of Two Mills are divided by race, and at first Maniac doesn't understand the division.
For the life of him, he couldn't figure why these East Enders called themselves black.  He kept looking and looking, and the colors he found were gingersnap and light fudge and dark fudge and acorn and butter rum and cinnamon and burnt orange.  But never licorice, which, to him, was real black.
What color are you?  Are people in your town/school divided by color or another outward characteristics?  How important are physical traits?
Recommendations
I have to admit, although my daughter liked the book, the third person narrative confused her at times; she thought it skipped around a lot.  I enjoyed the balance of action, thoughtful insights, and quirky characters.  Maniac Magee also has several positive messages; It's one of those kid lit books that's great for adults to read too.
To "sweeten" the book discussion, I baked homemade butterscotch krimpets, a favorite snack of Maniac's.  A week later, I found Tastykake Krimpets at the grocery store, but my kids and I decided that homemade tasted better.  (Doesn't it always?)  I tried to find Mars bars (the inspiration for a nick name in the book), but they were discontinued in the early 2000′s.  We substituted Milky Ways.
Have you read Maniac Magee?  What did you think?  Can you suggest another kid lit book for summer reading?
Thanks for stopping by.
Julia
Share on Twitter:  Looking for fun summer #kidlit ? Try Maniac Magee – legends, heroes, and butterscotch krimpets via @juliatomiak #amreading